For most of us, some of our earliest travel memories are family vacations as kids. Whether it's a quick road trip to a nearby beach, summer getaways to Baguio, or magical trips to Disneyland, these experiences shaped us into the travel-obsessed people we are today. Here's one thing we never realised until much later, though: Travelling with kids is a major undertaking. From crying babies on long flights to bored teenagers, there's definitely a less-than-glamorous side to seeing the world with the fam. Some parents make it look effortless, though! 
In honour of Mother's Day, we talk to three Filipinas about how they travel with their kids — the joys, the not-so-joyful parts, and their survival tips for taking the family on the road. 
Also read: These Airbnbs in the Philippines Will Inspire You to Travel Local
Mia Sison, momtrepreneur and health coach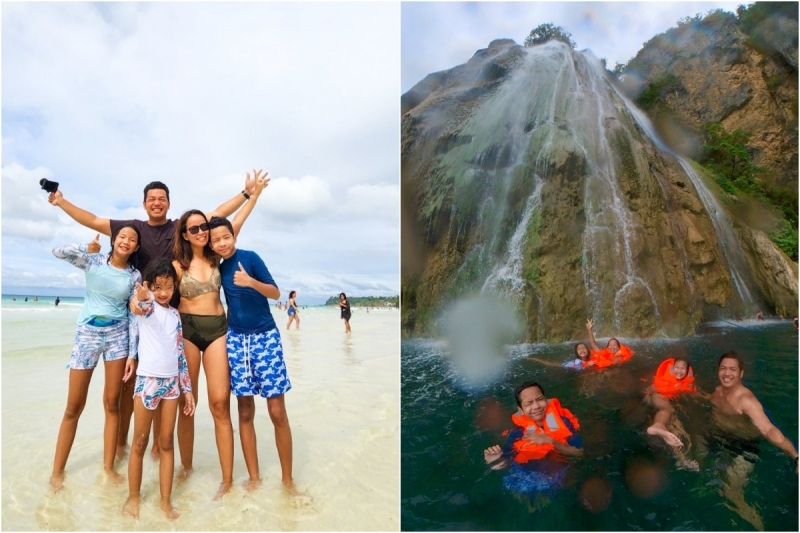 Although she's based in the heart of the bustling city, Mia Sison makes sure she's raising kids who know the value of a good adventure. Besides revisiting family favourites like Paradise in Samal Island, Davao, and Boracay, the Sison family are always on the hunt for experiences that take them off the beaten path: snorkelling in Dumaguete, cattle herding in Masbate, and even pitching a tent and sleeping under the stars in Benguet. 
"The kind of places that we like to visit would probably be the less popular tourist spots in the Philippines. Aside from going to the beach, we also like camping, hiking, and visiting waterfalls," Mia said, adding that her husband Eric loves reading travel blogs for ideas on their next family vacations. "The best thing about travelling with our kids is the memories that we create together as a family. Being together 24/7 without school or work to preoccupy us, enjoying each other's presence — it's really precious."
On surviving long road trips and flights

To get to the off-grid destinations that promise the best adventures, of course, Mia and her brood would have to spend hours on the road. So far, the Sisons' longest ride together was their road trip to Sorsogon, an impressive 12-hour drive! To make the hours-long trip easier on everyone, Mia and Eric timed the road trip in the evening. She explained, "We left the house at night, so the kids were mostly asleep, and we arrived at Legazpi City just in time for the sunrise."
"For long flights, like when we travelled to Spain, the kids are mostly entertained by the in-flight movies, though I make sure they get some hours of sleep, too," she said, adding that she used to pack colouring and writing materials or the kids' favourite toys when they were younger. "Now as they have grown older, they pack their own carry-on bags. These usually contain their gadgets, favourite snacks, card games or Rubik's cube for my eldest, and writing materials for the girls."
But most importantly, hype them up for the vacation! "I make sure the kids are excited about the place we are going to," Mia explained. "We talk about the spots we'll be visiting, and it makes all the little nuances and challenges worth it." 
On entertaining the kids on vacation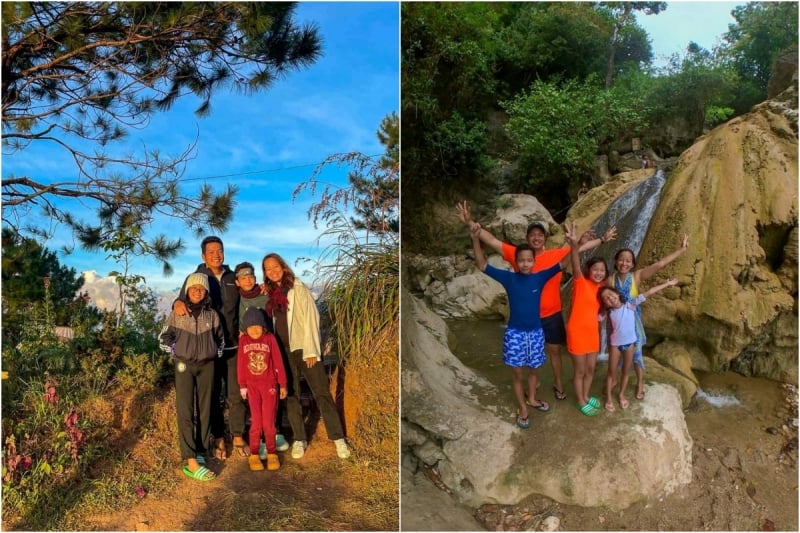 Once the Sisons get to their destination, Mia doesn't worry about the children having fun. "I don't feel the kids need to be further entertained on vacation, the vacation is entertainment itself," she pointed out. 
"To make sure they enjoy the vacation, we bring them to age-appropriate places. We also take into consideration their current interests. My eldest daughter has always been a fan of animals, so we arranged for a visit to a ranch in Masbate where we all experienced cattle branding and cattle herding for the first time. Beach and swimming are always a hit, so we always have a beach trip in our itinerary."
Also read: 20 Unspoilt Beaches in Mindanao You've Probably Never Heard of
Mia's tips for moms who want to travel with their kids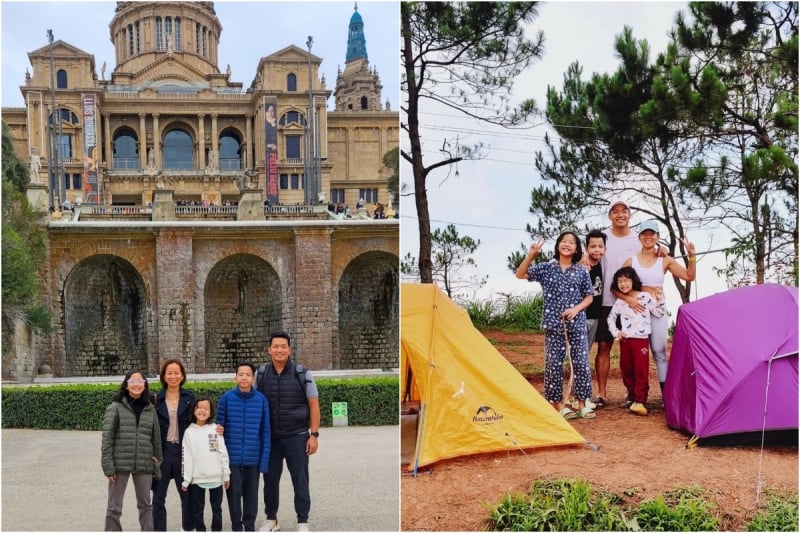 "Just go with the flow," Mia advised. "Sometimes things do not go as planned and you might need to change plans along the way — and that's okay. It's all part of the adventure! Be open to try new things and new food, because that's part of the magic of travelling."
Additionally, Mia stressed that it's important to be mindful of the way you speak and act around younger children. Ultimately, they take their cues from you. She said, "I believe the kids model our behaviour. If they see us irritated and complaining about everything while vacationing, they'll absorb the energy and feel the same way. However, if they see that we're enjoying ourselves, laughing off small mishaps and being open, they'll do the same."
And of course, remember to pack well. A mom's bag is always full of travel essentials and Mia's is no different with an assortment of things, including sunblock (the spray kind and lotion), snacks, wet wipes, and four sets of sunglasses. She said, "The kids always borrow my shades and I end up the one glaring in the sun!" 
Also read: Where to Travel in 2023: 5 Local Destinations & Airbnb Recommendations
Katherine Reyes, CEO and architect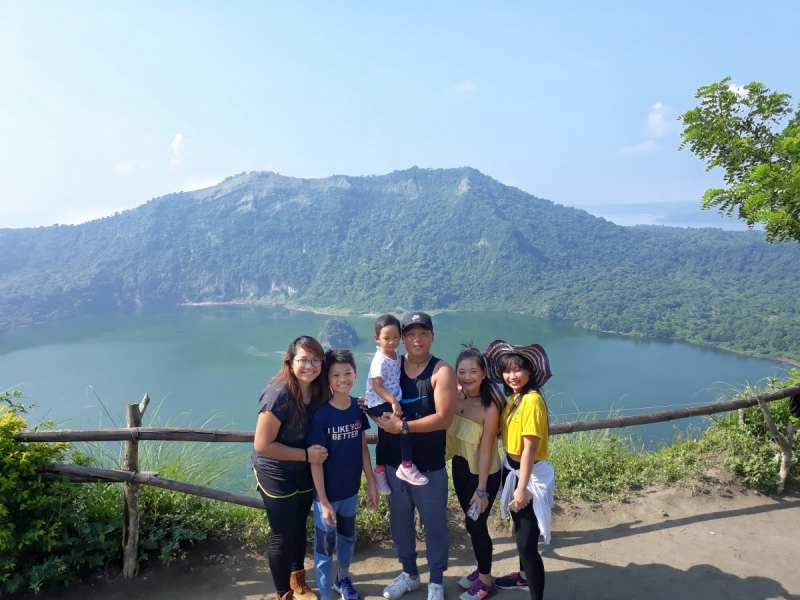 A busy mother at the helm of the growing Antipolo-based architecture firm GK Rustia, Katherine Reyes makes sure she carves out the time to relax, bond, and travel with her family. As a mountaineer and frequent local traveller, she's been all over the Philippines. Back then, she was a college student and struggling yuppie with limited cash to spare. Now that she's blessed with her own family, she's excited to experience everything with the people she loves the most. 
"I like taking them to Philippine beaches and other places I've already visited, since I want the kids to appreciate the beauty of our country," Katherine said. "I used to travel a lot on a budget scale, so returning with my family with a family-appropriate budget is fun. Plus, it's usually a new experience for me, too! Plus, quality time with family is always a priority."
Also read: 14 Mountains in the Philippines With the Most Incredible Views
On planning trips that everyone will enjoy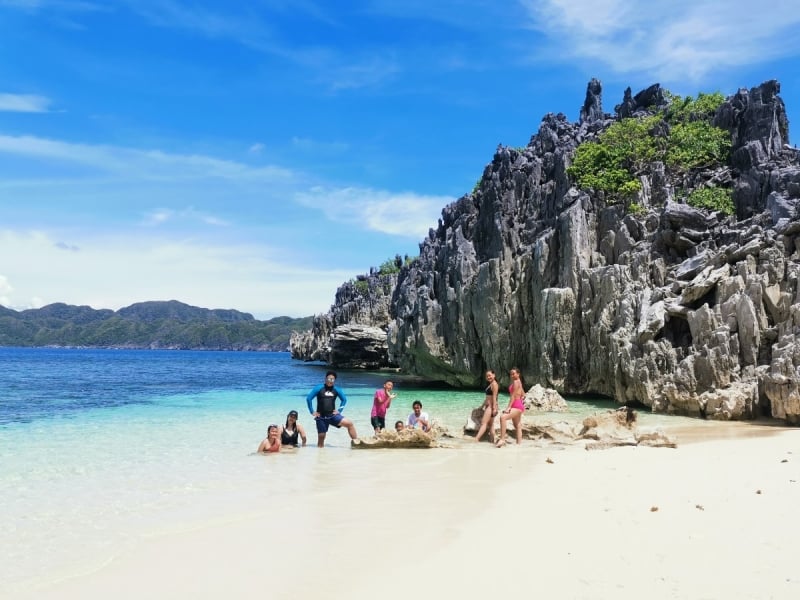 With two young college ladies, a teenage boy, and a pre-teen girl, it seems like it would be tough for Katherine's family to pick, arrange, and enjoy vacations. Everyone has their own bucket list and interests after all! But, it's easier for Katherine than one would think — she takes on the challenge by being as organised and meticulous as she is at work. 
"I usually pick destinations that I've visited in the past, then I do a complete research of possible itineraries and places to visit," Katherine said. "To maximise our visit, we usually arrive at the venue in time to check in at the resort. And then for the next two to three days, we really follow a strict itinerary to make sure we see everything."
She added that they usually discuss the itinerary extensively beforehand. With everyone's schedule and two of the kids living away from home for college, the conversations usually take place online. But despite the distance, Katherine and her partner Gino make sure to consult the kids about their own vacation ideas. She stressed, "Research and itinerary are very important to us. Even the exact times we wake up and eat are all itemised and planned out. In fairness, the kids seem to like it that way!"
Katherine's tips on making the most travel experiences with kids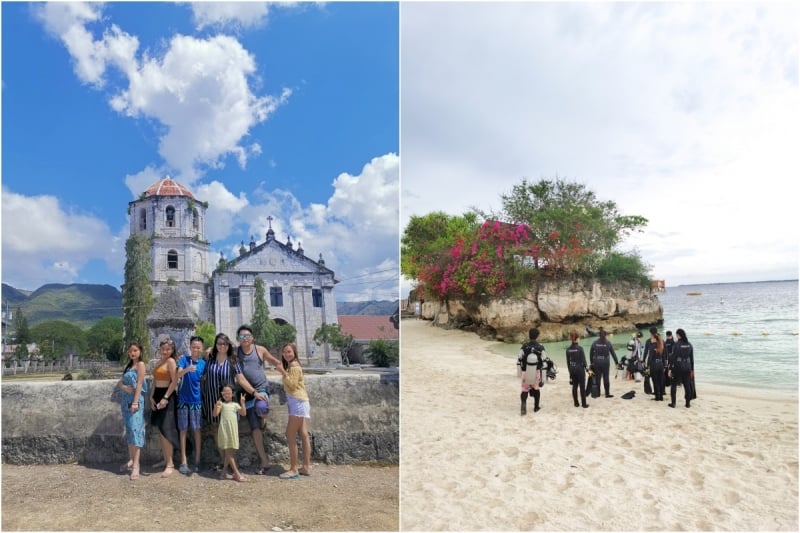 First, Katherine advised that prior research and meticulous planning with the entire family are keys to a successful trip. Everything is planned out on a trip with Katherine, including restaurants and an itemised itinerary. She added, "We map out our travel time and places to visit on Google Maps to make the most of the entire day. Even during Visita Iglesia, naka-map out ako!"
And like all moms, Katherine makes sure she's prepared for every scenario. Besides the travel essentials for their destination, she packs first aid kits, basic medicine, and vitamins for everyone. "I pack them all, just to be sure. If someone gets hurt, scratched, or sick with allergies or flu, at least my medicine kit is complete." 
Jen Ocampo, content creator and digital marketing consultant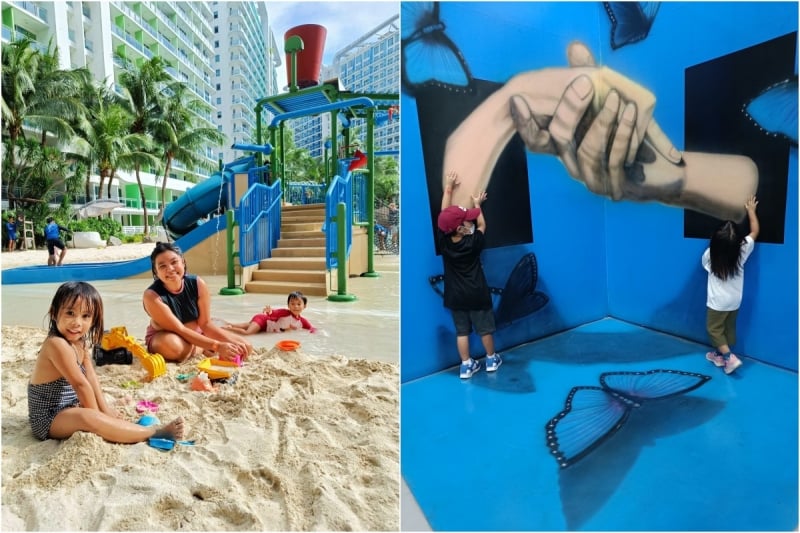 Content creator Jen Ocampo, the woman behind The Social Momdia, often travels for work. But, it's a different experience when she plans to travel with her two kids. Sure, it's a challenge, especially finding suitable dining spots for the young ones, but it's also ultimately very rewarding.
According to Jen, she loves giving her children the gift of experience. She said, "My partner and I firmly believe that as parents, we should invest in intangible things such as new adventures and learning opportunities. It's also wonderful to watch your kids discover new places and learn more about themselves. I find great joy in being there with them during those moments."
Based in Cavite, the Ocampo family is surrounded by a multitude of tourist attractions but they tend to pick travel destinations with their kids in mind: outdoor parks, family-friendly beach resorts, staycation spots with kids' activities, and interactive museums or exhibits. "I'm really the type of mom who is always and will always be willing to spend money so my kids and I could travel and enjoy a new place," Jen said.
On road travel and keeping the kids happy
Whenever Jen and her husband go out of town with the kids, they make sure they're well-equipped for the ride. The family endures long road trips armed with plenty of treats and LEGO sets. The parents also ensure that their gadgets have a few movies to keep the kids busy while they travel. Her three must-have essentials on the road: snacks, water, and wipes or hand sanitiser. 
Moreover, Jen has learned to plan her trips with the family well. She said, "We look for places like parks, malls, and museums near our hotel that are suitable for our children and include them in our vacation itinerary. We don't create a thorough itinerary, but we ensure that there are specific places we will visit and unique experiences we can have with our kids while on vacation."
Jen's tips for travelling with kids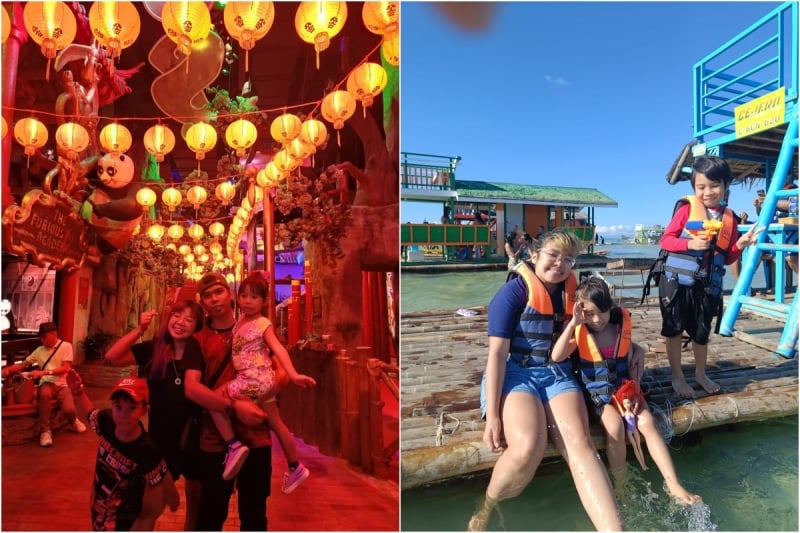 "I believe that the most valuable travel tip is to keep in mind that the vacation is about spending quality time with your kids," Jen said. "Sometimes, as adults and parents, we tend to prioritise our own enjoyment during vacation and forget about our children's needs. It's important to consider them when selecting a hotel room, choosing a restaurant, and planning which places to visit."
Also read: 10 Visa-Free Destinations Perfect for Your Family's Holiday Vacation
Travelling with kids isn't always easy, but these travel experiences are priceless and ultimately worth the challenge. So, take your inspiration from these strong Filipinas. Also, shout out to all Pinay moms out there instilling the love of travel in their offspring of all ages!
---
All images courtesy of the interviewees.
Featured image credit: Jonathan Gallegos | Unsplash