The dawn of the "ber" months in the Philippines only means one thing: Christmas is on its way! By now, you've probably heard the festive carols playing on the radio and blaring at bustling malls. Streetside stalls have already begun selling colourful parols and twinkling lights, and pretty soon, we'll be munching on bibingka, puto bumbong, and glazed Christmas ham nonstop. It's the most wonderful time of the year, indeed!
Besides the glittering decorations and the merry Christmas music, the holiday season offers an irresistible opportunity for new adventures and relaxing staycations with the people you love the most. Domestic travel continues to be popular among Filipinos, according to Airbnb. And why wouldn't it be when there are so many amazing travel destinations in the country? Discover some of the perfect Airbnbs to make your holiday travel dreams in the Philippines come true. 
Also read: 14 Airbnb Homes & Vacation Rentals Near Manila With Private Pools
Family-friendly holiday getaways on Airbnb
Every family is unique which can make planning a trip a delightful puzzle to solve. Whether your family is close-knit or a lively extended bunch, Airbnb offers homes crafted to cater to every member — from the youngest explorers to the seasoned adventurers.
1. This sprawling lake house perfect for water lovers in Cavinti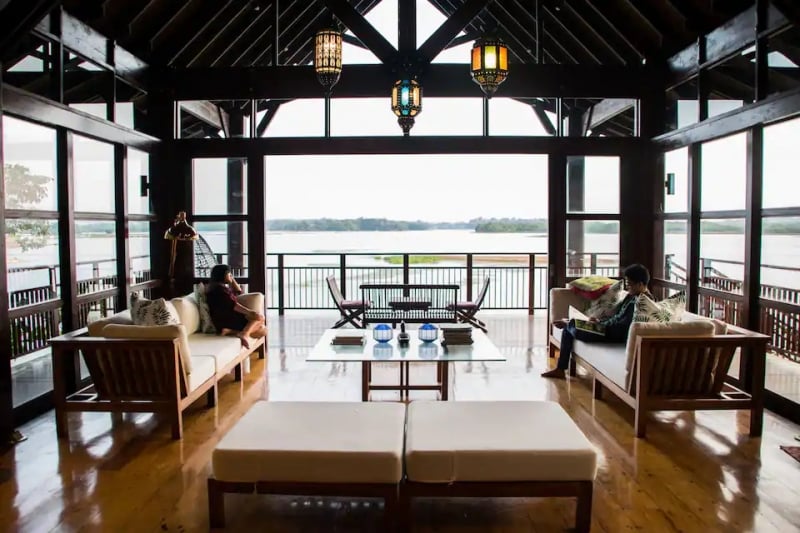 Listing name: The Lake House at Caliraya
Listing type: Entire cabin
Max. no. of guests: 12
No. of bedrooms: 6
Take, for instance, this stunning lake house in Cavinti. It not only offers breathtaking panoramic lake views but also an array of exciting water activities for all ages. Kayaking, fishing, and paddle boarding are just some of the options for kids and the young at heart. For families who enjoy spending time outdoors, this one's a no-brainer!
2. This rustic pool house in Batangas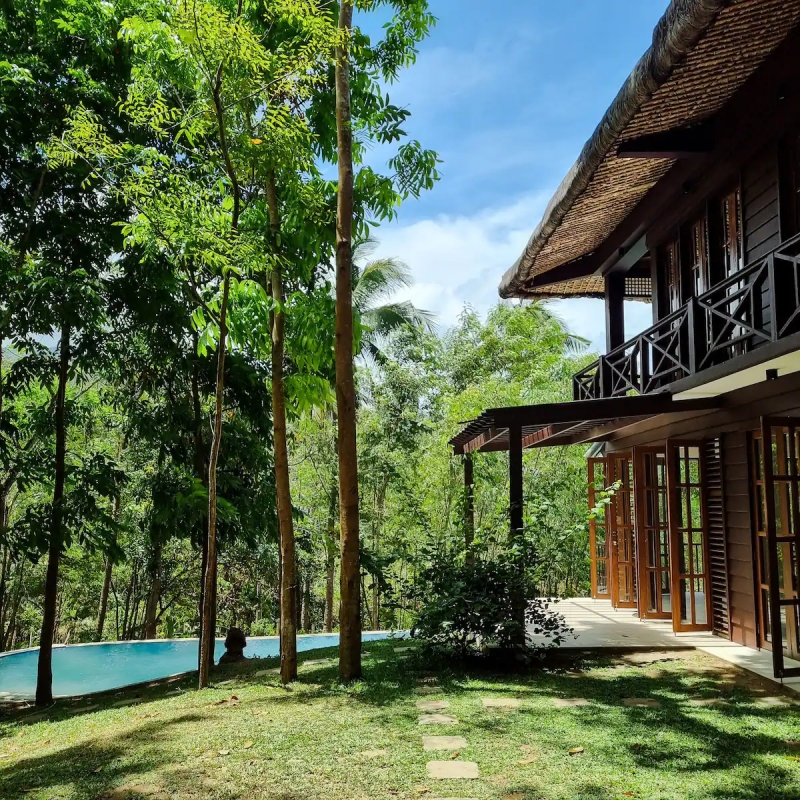 Listing name: The Red Hen Homestead
Listing type: Farm stay
Max. no. of guests: 16+
No. of bedrooms: 4
If you're seeking a taste of rustic countryside charm, look no further than this idyllic farm stay in Batangas. With its modern-native design, it embodies a unique blend of comfort and authenticity. Dive into nature-centric experiences like permaculture farm exploration, ziplining adventures, and invigorating mountain hikes. Indeed, it's one of the Airbnbs in the Philippines where family bonds are forged amidst the beauty of nature.
Also read: 18 Airbnbs & Vacation Rentals in Batangas for Quick Escapes
Airbnbs for soul-searching solo journeys in the Philippines
Why wait for a sign when you can make solo travel an integral part of your holiday plans? Solo exploration isn't just a passing trend, it's a lifestyle that continues to enrich lives. With Airbnb Rooms and our welcoming local hosts, your solo adventure promises to be a voyage of profound experiences.
3. This laidback suite in Siargao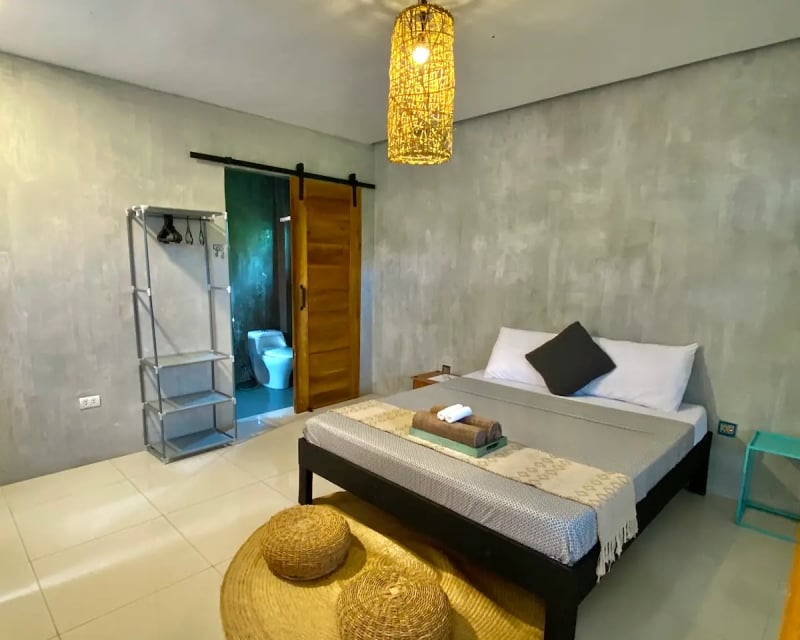 Listing name: Tahanan Private Bedroom with Gazeebo
Listing type: Room in a vacation home
Max. no. of guests: 2
No. of bedrooms: 1
When life feels stagnant, they say the remedy is a dose of 'vitamin sea.' Set your sights on this pristine hideaway in Siargao, a budget-friendly gem conveniently located near the New Tourism Road. It's not just a room, it's also a getaway to meet locals, savour the local island flavours, soak in stunning beach sunsets, and master the art of surfing. This stay truly offers a comprehensive package of the island life experience! 
Also read: 15 Beautiful Airbnbs in Siargao to Complete Your Island Experience
4. This secluded cabin in Laguna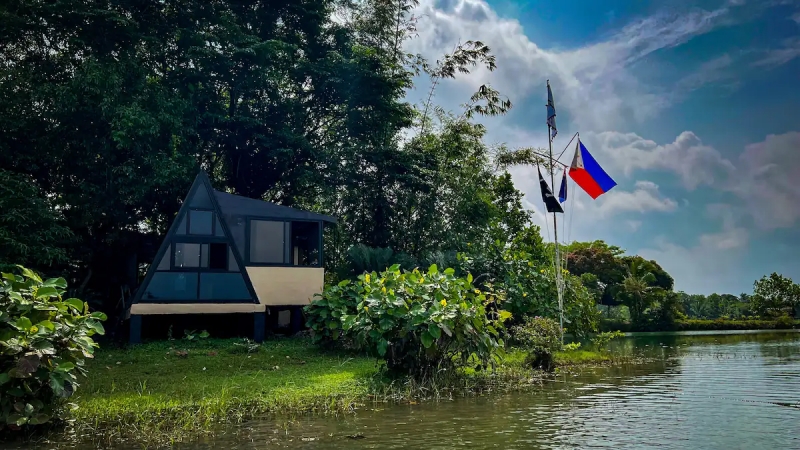 Listing name: Delightful & Unique A-frame cabin w/ lake views
Listing type: Room in an island
Max. no. of guests: 5
No. of bedrooms: 1
On the other hand, if you find solace in tranquillity, then this A-frame cabin in Laguna beckons. Here, time seems to stand still as you lose yourself in the mesmerising scenery right from your cabin's balcony. It's a haven where hours drift away, leaving you refreshed and rejuvenated by nature's embrace.
Adventure-packed Airbnb stays for the barkada
It's time to turn those long-awaited barkada plans from your group chats into a thrilling reality this holiday season. With extended weekends gracing the calendar, why not venture off the beaten path and transform your reunions into memorable adventures?
5. This tropical escape in a Zambales beach town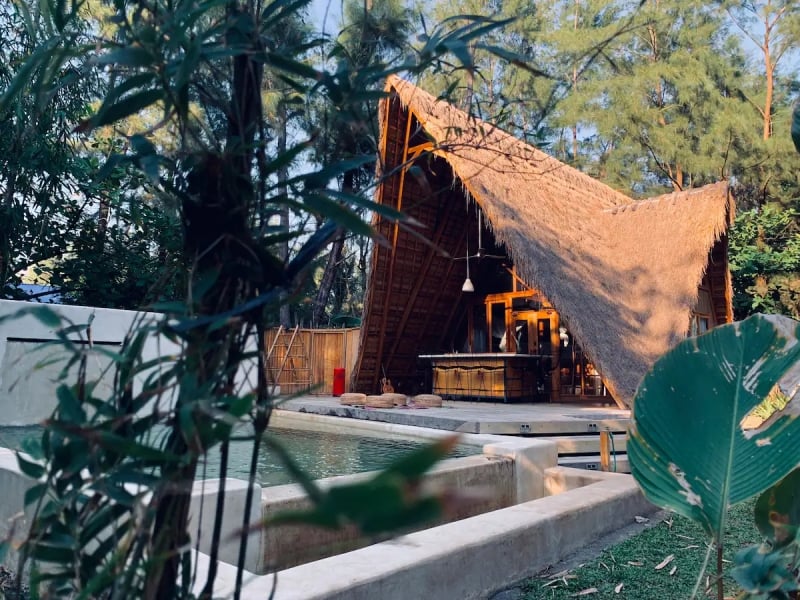 Listing name: Casa Liwa Beach Villa, a private villa with a pool
Listing type: Entire place
Max. no. of guests: 14
No. of bedrooms: 2
Crafted to seamlessly blend the wonders of the great outdoors with the serenity of tropical landscapes, this relaxed villa in Liwa offers an ideal beach town escape for your barkada. Nestled in Zambales, renowned for its pristine beaches and surf-worthy waves, this stay boasts ample outdoor spaces for various activities and picturesque spots for Instagram-worthy moments. 
Also read: 17 Airbnb Homes in Zambales That You'll Never Want to Leave
6. This beachy escape by the Batangas sea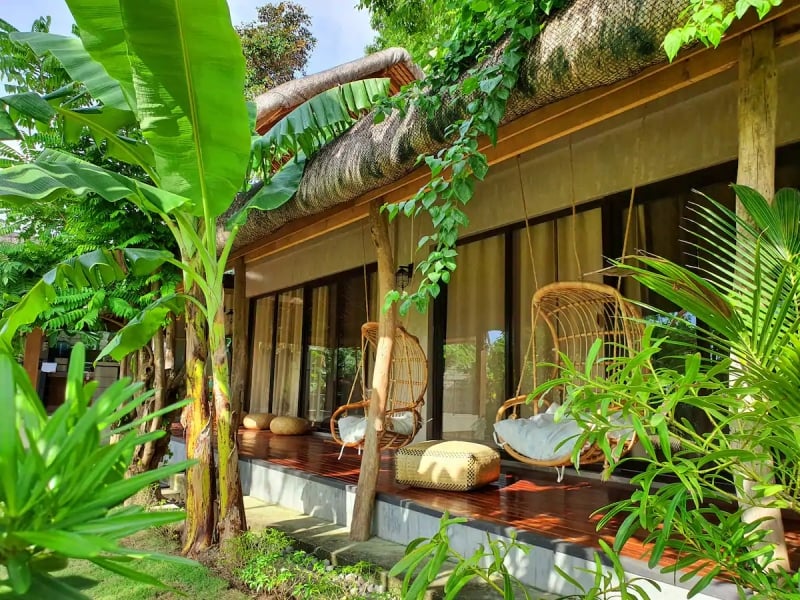 Listing name: BATALANG BATO- PRIVATE.EXCLUSIVE.MARINE SANCTUARY.
Listing type: Entire home
Max. no. of guests: 12
No. of bedrooms: 2
Seeking a more secluded retreat? Well, consider this serene sanctuary stay in Mabini, Batangas. With its horizon-expanding views and exclusive beach access within a marine sanctuary, it guarantees encounters with a fascinating array of wildlife, from kingfishers and orioles to geckos and sea turtles. It's an authentic adventure immersed in the heart of nature.
Also read: 12 Airbnbs Near Manila for a Barkada Staycation
Home away from home Airbnb stays for the holidays
No matter where they are in the world, Filipinos cherish the heartwarming tradition of being at home for the holidays. Christmas is all about embracing the familiar comforts of home, no matter where you are. And if you're looking to spend quality time with your loved ones in a different setting, Airbnb's passionate Hosts are here to extend a warm welcome this festive season.
7. This storybook stone manor amidst the pines in Cebu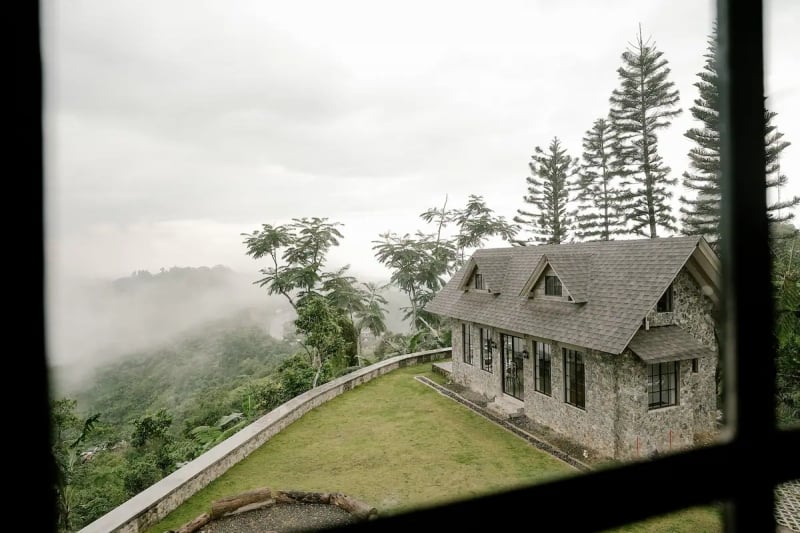 Listing name: Country Stone House w/ Breathtaking view of Cebu
Listing type: Entire home
Max. no. of guests: 15
No. of bedrooms: 3
Straight from the pages of a Christmas storybook, this country stone house in Cebu boasts a 180-degree panoramic view, a misty ambiance, and majestic pine trees. Cathedral-esque interiors create a grandiose setting for family gatherings, while the sweeping mountain surroundings are a timeless backdrop for picture-taking with the clan. It's definitely one of the best Airbnbs in the Philippines for Christmas reunions!
8. This beautiful wooden cabin in chilly Baguio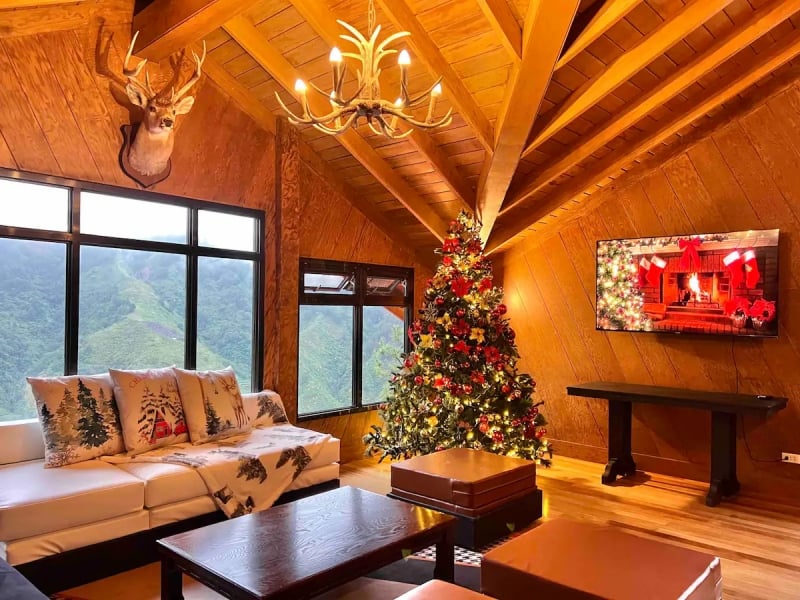 Listing name: Cozy Baguio Cabin w/ fireplace & Mountain Views
Listing type: Entire cabin
Max. no. of guests: 16+
No. of bedrooms: 5
Meanwhile, travellers seeking a snug Christmas sweater experience should check out this cosy cabin in Baguio offering mountain views from every floor. It's perfect for cocoa sipping and family moments around the Christmas tree. If you plan to explore Baguio during the season, this stay is conveniently located near the city's attractions.
Also read: Where to Stay in Baguio: 25 Airbnbs for All Budgets
There you go; the best Airbnbs in the Philippines for holiday vacations, whether you're travelling with family, friends, or just by yourself. We hope you got a couple of ideas and some inspiration for your Christmas travels!
Got a property you'd like TripZilla to feature? Inquire with us here.
---
This article contains affiliate links. When you book through these links, we may earn a small commission at no additional cost to you. All images courtesy of the respective property listings unless otherwise mentioned.