Rainy days are rolling in, but that doesn't have to mean being stuck at home and wistfully dreaming of sunnier times. Although summer may be the peak season, travelling during the rainy season has its perks: fewer tourists, lower rates, and lusher greenery. And dare I say that the chilly weather actually makes this season the best time to travel for rest and relaxation? Not to mention, there's an incredible range of staycations near Manila that doesn't have to take much energy to plan. 
Trust us: Even if you don't have the time (and money) to fly somewhere exotic, there are plenty of rainy season staycation spots within driving distance of the metro. Read on for our picks of the best staycations near Manila to call home for your upcoming weekend getaway. (Remember to pack your sweater!)
Also read: 10 Dreamy Treehouse Stays in the Philippines for a Magical Vacay
1. This luxe Mediterranean villa in San Jose del Monte, Bulacan
Listing name: Luxury 3 Bedroom Hot Spring Villa
Listing type: Holiday home
Max. no. of guests: 8
No. of bedrooms: 3 
A stylish and modern take on cabin living, this Mediterranean-style villa is a gem of a cabin. The city of San Jose del Monte is only an hour away, so we recommend this one to weekenders who aren't fond of long drives. And with architecture and décor inspired by refined Moroccan and Spanish design, this designer home will make you feel like you're vacationing a thousand miles away.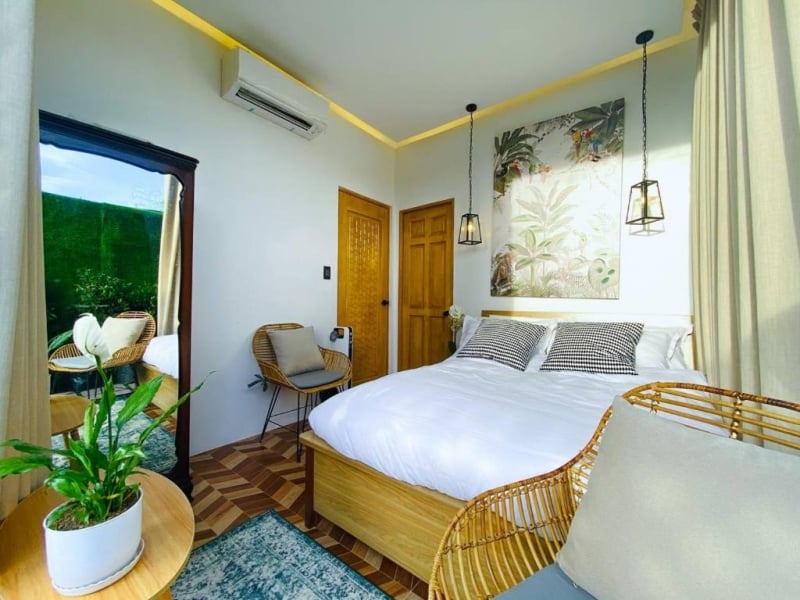 Outside, you'll find a heated swimming pool that's definitely a plus on cool, rainy days. In addition, there's a relaxing hot tub perfect for relaxing soaks. 
Also read: 8 Things to Do in Bulacan for All Kinds of Travellers
2. This designer cabin overlooking Taal in Alitagtag, Batangas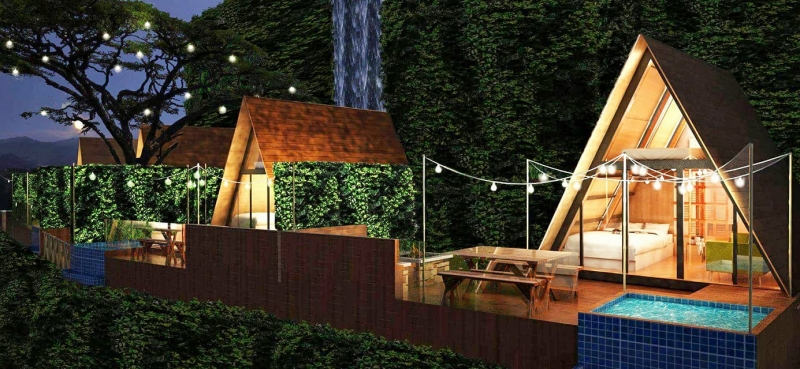 Listing name: Talisay Cabin at Noni's Resort
Listing type: Entire room
Max. no. of guests: 4
No. of bedrooms: 1
When there's the threat of rain, you can't exactly go outside and pitch a tent in the wild. Enter, Talisay Cabin in Batangas. These A-frame cabins at Noni's Resort are designed to offer outdoor lovers a nature staycation near Manila that combines nature and luxury in one picturesque little cabin.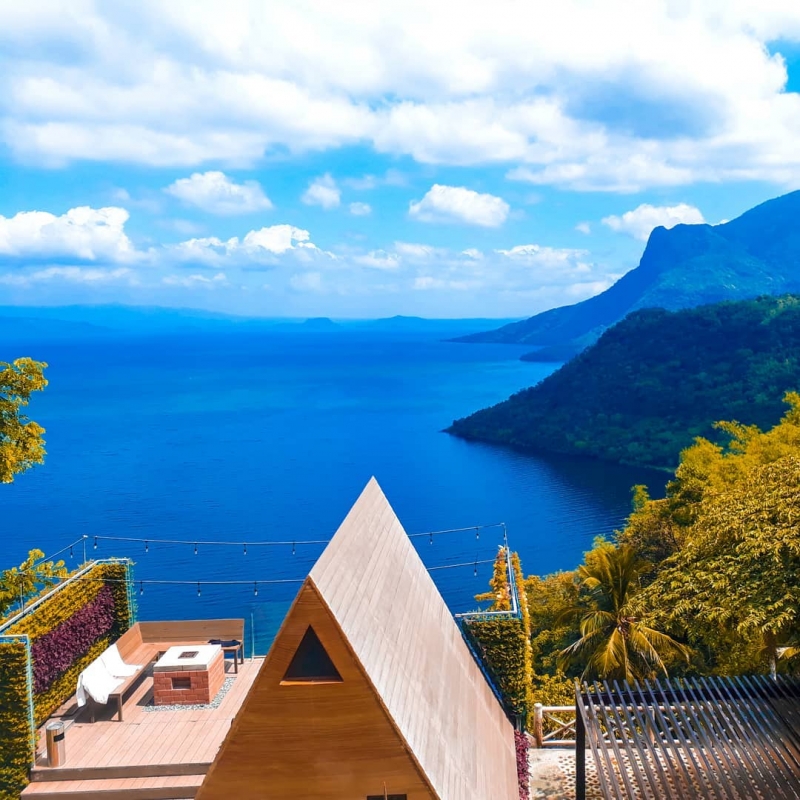 By luxury, we're talking an al fresco area, a grilling area, and a private heated pool overlooking Taal Lake and the mountains. (Bring marshmallows for s'mores!) Inside, the air-conditioned cabins each have two levels of living space, both featuring floor-to-ceiling glass windows for views of nature from morning to evening.
Also read: 16 Airbnbs & Vacation Rentals in Batangas for Quick Escapes
3. This adventure-inspired resort in Calatagan, Batangas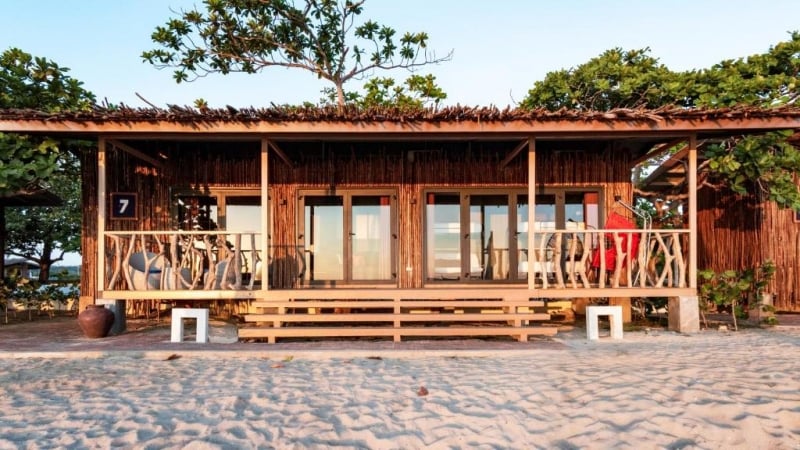 Listing name: Crusoe Cabins Casobe
Listing type: Entire room
Max. no. of guests: 3
No. of bedrooms: 1
Inspired by the adventurous spirit of Robinson Crusoe, Crusoe Cabins Casobe invites travellers to venture out and unplug by the sea. It's nestled on the shores of Calatagan South Beach in Batangas, which is known for calm waters any time of the year. As the day winds down, head down to the beach, as this is one of the best spots around to catch a vibrant sunset.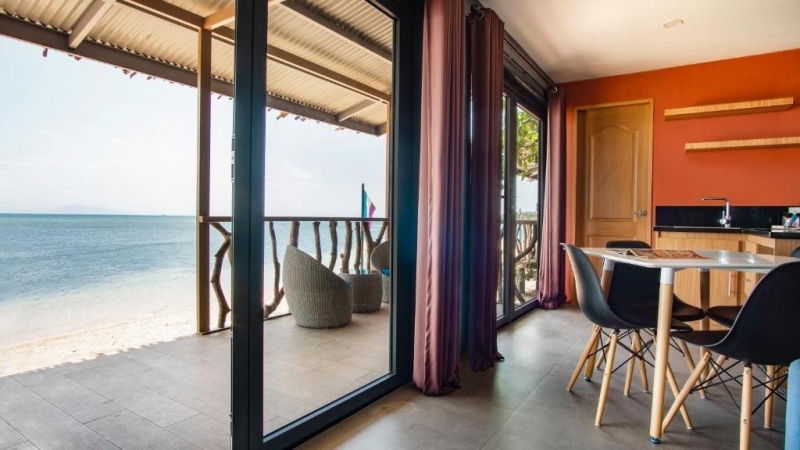 If the cabins' ramshackle facade almost looks straight out of a deserted island, the indoors are contemporary and super comfortable with air-conditioning, a flatscreen TV, and a minibar. Guests enjoy free access to Aquaria Water Park. (Just between us, we prefer the unspoiled Calatagan beach.) At night, gather 'round the bonfire for barkada bonding and scary stories.
4. This cosy forest lodge in Baguio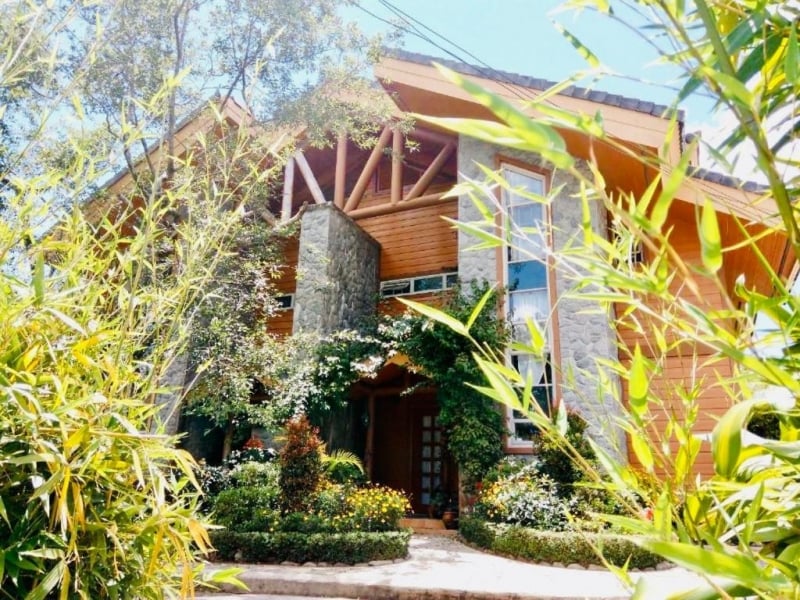 Listing name: Forest Log Cabin
Listing type: Holiday home
Max. no. of guests: 8
No. of bedrooms: 3
The fog rolling down from the mountains, the sweet scent of pines in the air, the pleasant bite of the chilly air… Baguio is just one of those cities that finds its groove in the cooler months of the year. Although it's famously known as the Summer Capital of the Philippines, the city is also the top destination for staycations near Manila for metro folks craving cool weather and cosy cabin vibes. Our pick? This three-bedroom retreat at Camp John Hay, a true home away from home if we've ever seen one!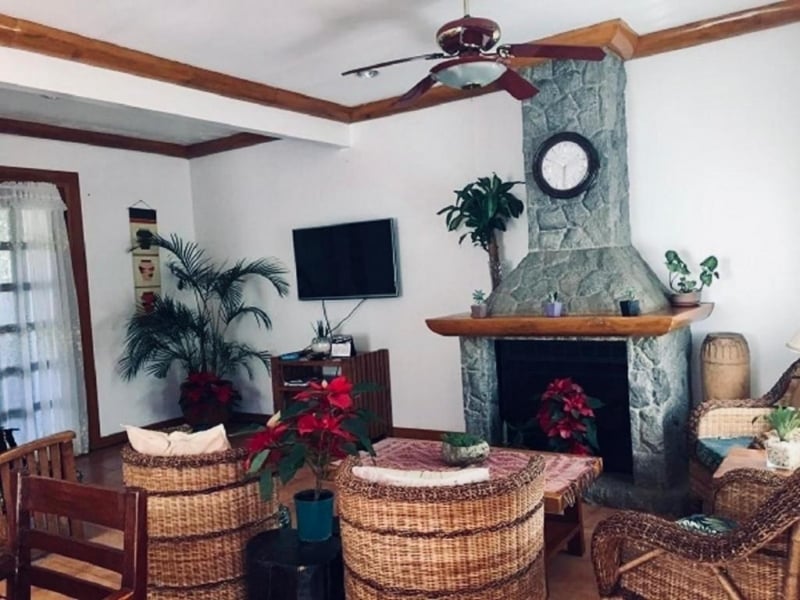 Thanks to the ultra-comfy rooms, fireplace, lush garden, and bed weather, you may be tempted to stay on the property for your entire vacation even with all the Camp John Hay amenities available. As a bonus, pets are allowed upon request, so you won't have to leave your furry friends behind! 
Also read: 15 Best Baguio Pasalubong Items to Take Home
5. This off-the-grid hideaway in the forests of Tagaytay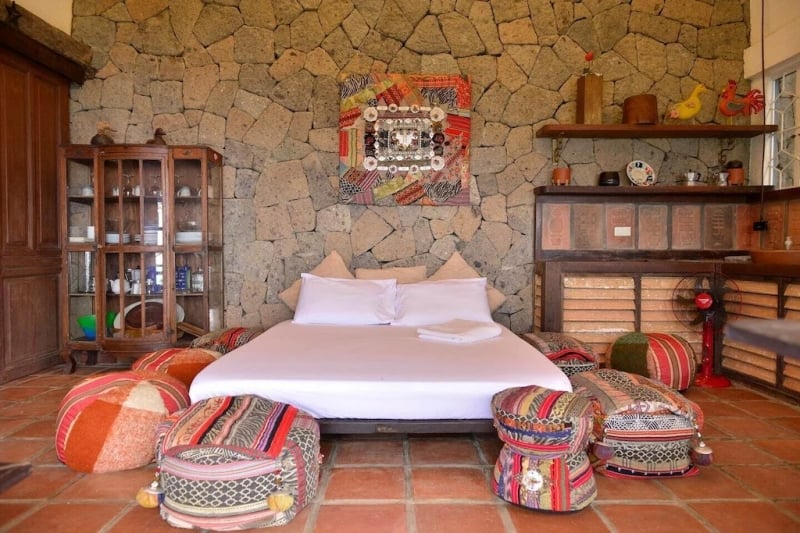 Listing name: Rare Find Forest Cabin
Listing type: Cabin
Max. no. of guests: 5
No. of bedrooms: 1
For metro dwellers, Tagaytay is a no-brainer for staycations near Manila, with its stunning natural views, exceptional cuisine, and cooler climes than the humid metro. Although there are areas in Tagaytay that can be quite crowded on weekends, there are quiet spots where travellers can go for a remote escape. Like, this secluded Forest Cabin surrounded by nature with unobstructed views of the lake.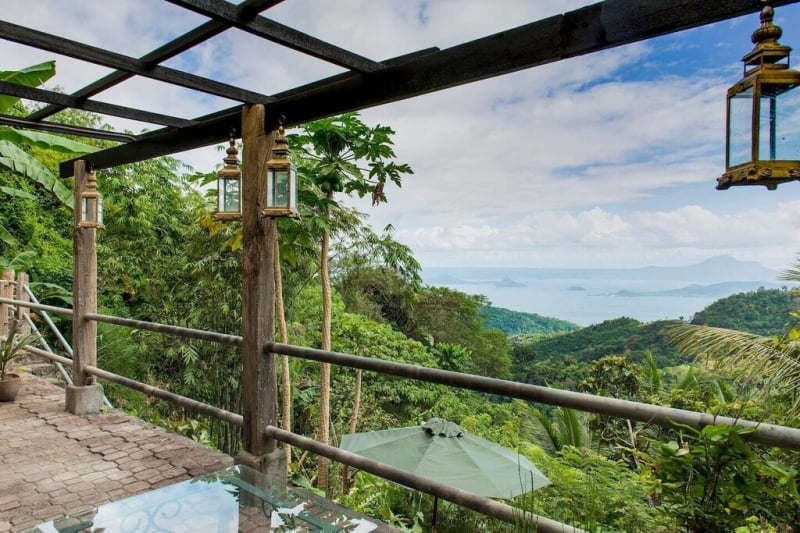 Bright, airy, and thoughtfully designed with natural materials to blend with the forest environment, this two-bedroom cabin is the nature staycation near Manila of every outdoor lover's dream. Artwork and bohemian-inspired pieces add colour to the earthy backdrop. Outside, there's a covered deck perfect for early morning coffee or late-night drinks. 
6. This rustic chalet for artsy souls visiting Tagaytay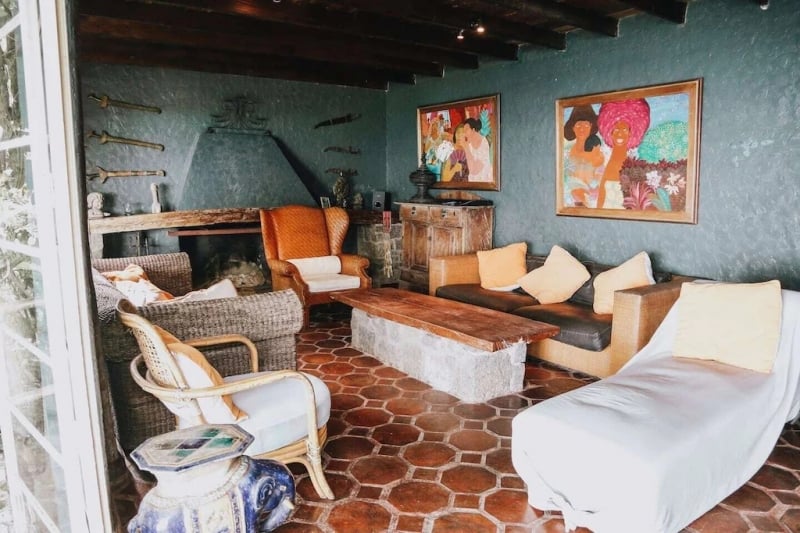 Listing name: Rustic Chalet with Spectacular View
Listing type: Chalet
Max. no. of guests: 6
No. of bedrooms: 1 (can be divided into 3 sleeping areas)
Disconnect from the world and relax in nature at the Rustic Chalet, a mountainside escape with postcard-pretty views and charming interiors. Guests will need to descend about 80 steps from the gate to the cabin, but it's well worth the effort as sweeping views of Taal Lake greet you from all corners of the house.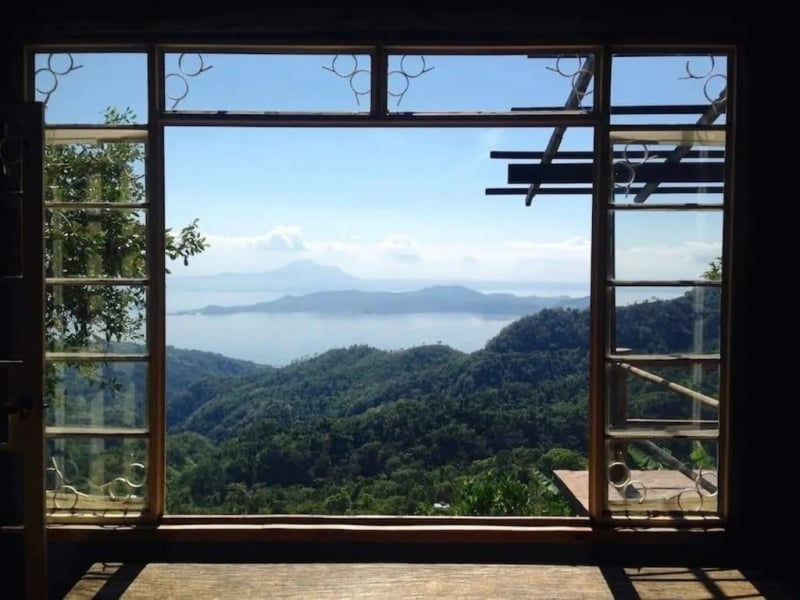 There's plenty to love about this no-fuss cabin: quirky artwork and décor, breathtaking scenery, a 12-square-metre balcony, and a spacious bedroom that can be divided into three, depending on the number of guests. At night, enjoy the cuddle weather by the fireplace before heading to bed. There's even a small yoga deck overlooking the waters, so you can do your daily stretches outdoors, or sunbathe when the sun is out. Namaste!
Also read: 10 Cosy Airbnbs in Tagaytay for Your Next Out-of-Town Trip
7. This hilltop cottage overlooking the sea in Sual, Pangasinan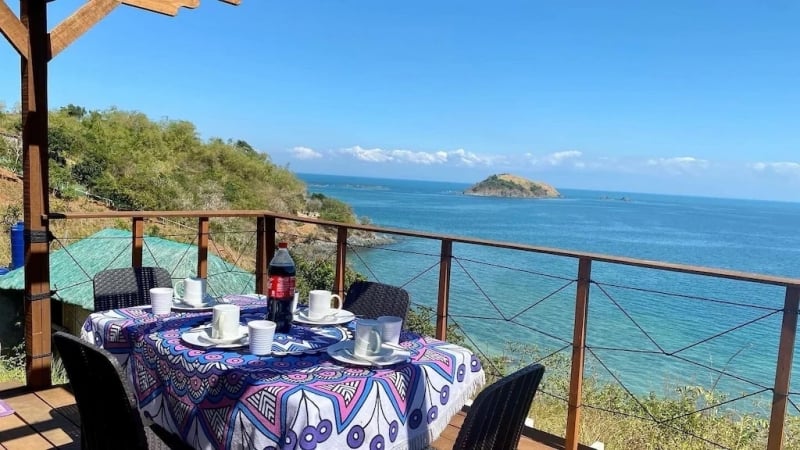 Listing name: Masamirey Hilltop Private Cottage with Seaview and Beach Access
Listing type: Cottage
Max. no. of guests: 6
No. of bedrooms: 1 
Located over a quiet cove, this Masamirey Hilltop Private Cottage in Pangasinan has all the ingredients of a good staycation destination: relative isolation, great views, and even solar lights just in case the power goes out. Here, you'll be ready to hunker down, rain or shine!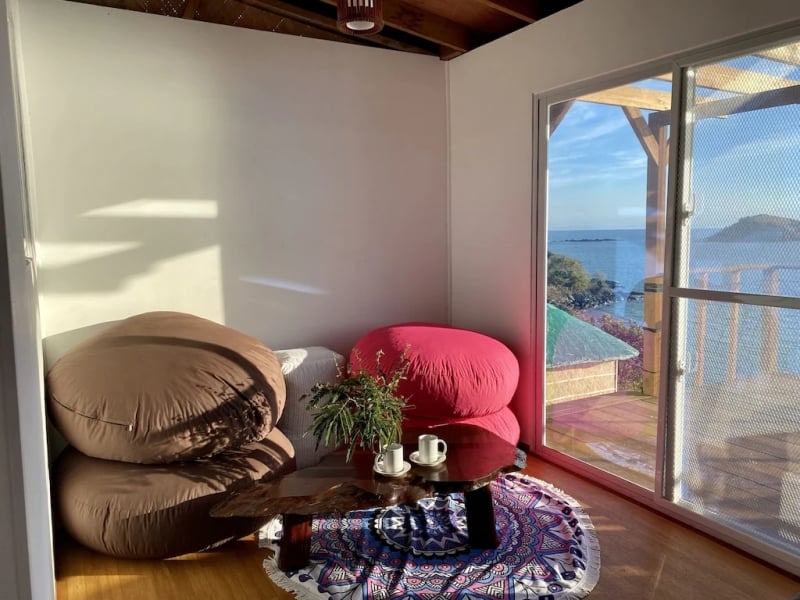 One of the main draws of this one-bedroom rental is the private beach accessible via a short downhill trek from the house. But if it's drizzling and you're not keen on cold-water swims, just enjoy the fresh sea breeze and scenery from the sprawling deck. And if you're willing to wake up early, you can bask in a spectacular sunrise from right outside the doorstep.
8. This modern sanctuary in Lipa, Batangas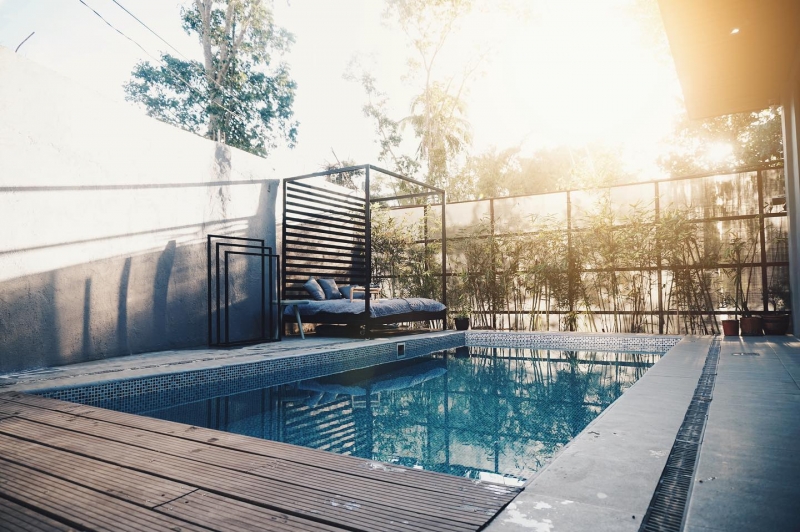 Listing name: Cabin Nendo
Listing type: Entire house
Max. no. of guests: 6
No. of bedrooms: 2 
If you've never explored the cultural gems of Lipa, maybe the rainy season is a great time to finally visit, right? The city can be a bit underrated compared to the beach towns in Batangas, but it's a fantastic stop especially if the weather is too cold for a swim at the beach. And when you're here, Cabin Nendo is the place to stay.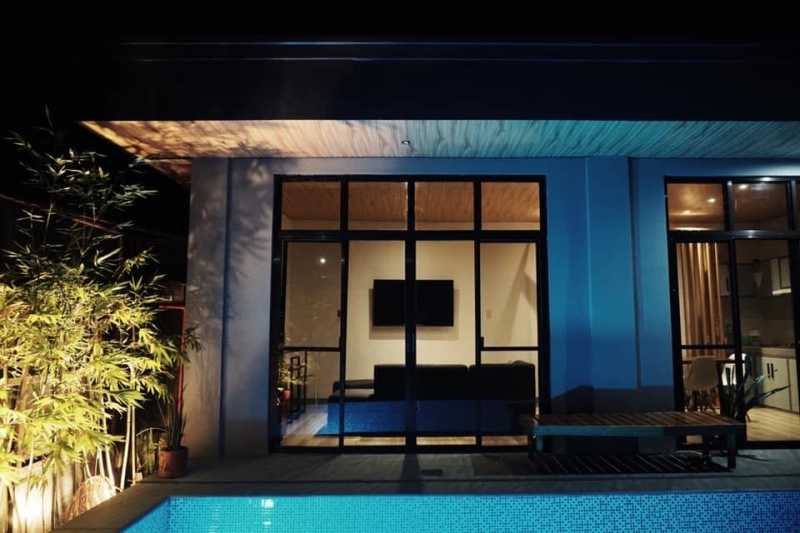 Featuring sleek, modern architecture with abundant glass windows, Cabin Nendo is an eye-catching sight in Lipa. The indoor and outdoor areas are equally enticing for late-night hang-out sessions. Inside, there's an open-plan living and dining area with a 55-inch television — here is where you catch up on your favourite Netflix series, while your travel buddies whip up dinner. And for the 'gram, there's a photo-ready private pool and a poolside daybed.
9. This chic contemporary cabin in San Miguel, Bulacan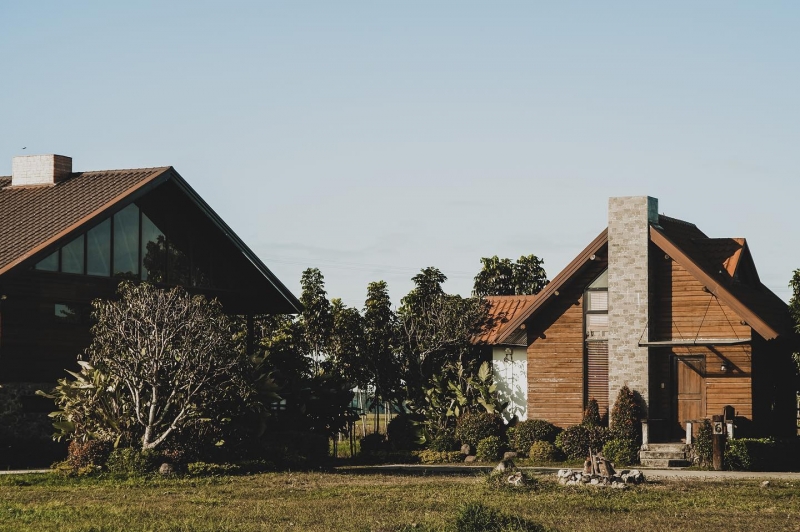 Listing name: The Cabin Resorts
Listing type: Entire room
Max. no. of guests: 3–8, depending on the unit
No. of bedrooms: 1 
When it comes to serene farm staycations near Manila, The Cabin Resorts in Bulacan is hard to beat, with loft-style units tastefully decorated in modern interiors. It's definitely a step higher than the farm kubos we're used to!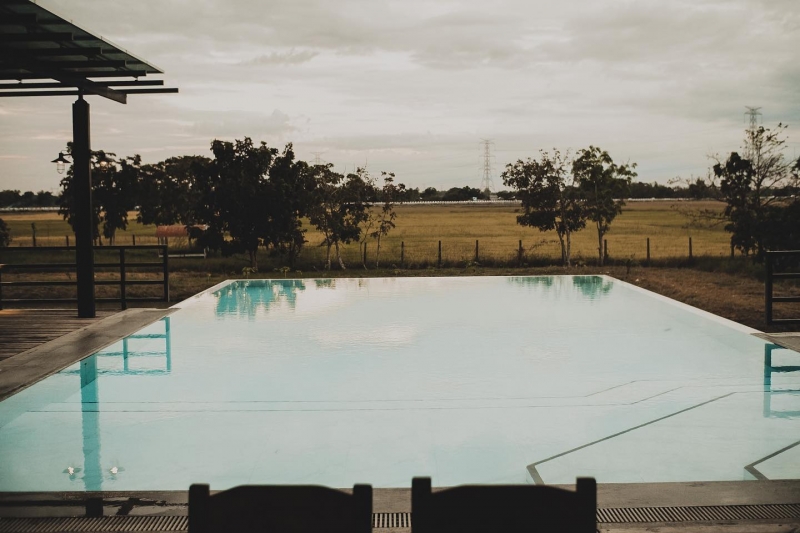 Depending on how many people you're travelling with, you can opt for the Deluxe Cabin for couples or larger units called the Loft Cabin. Swimming, biking, kayaking, and archery amenities are available, although many guests are just as happy just lounging and enjoying the natural surroundings. No matter what, The Cabin Resorts is a stress-free haven where you can reset and recharge!
10. This stunning riverside abode in Tanay, Rizal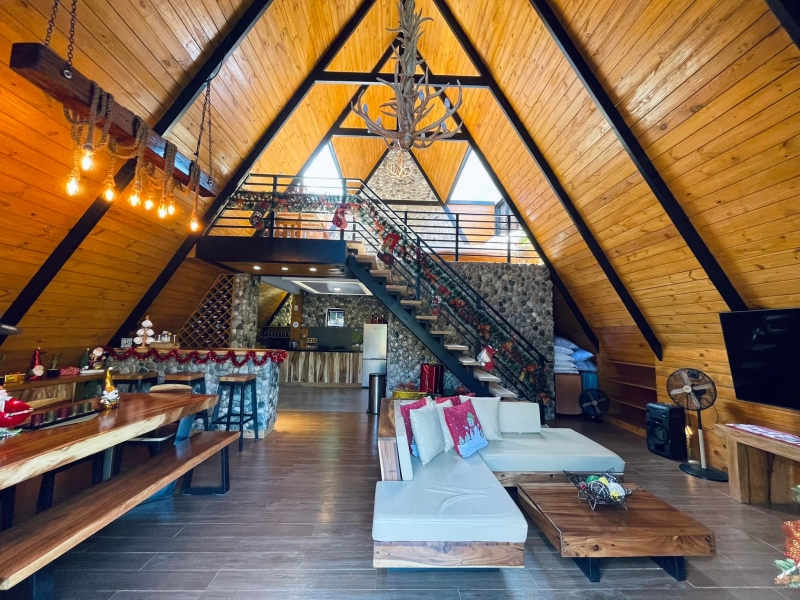 Listing name: Ellsworth Cabin
Listing type: Entire home
Max. no. of guests: 15
No. of bedrooms: 1
Tanay, famous among hikers and adventurers, is one of the few staycations near Manila left unspoiled — for now, at least. Peeking from the shores of the Daraitan River, Ellsworth Cabin is nestled in the heart of this unspoiled natural destination. It's a bit of a challenge to reach, but this beautifully furnished A-frame escape may fit the bill of your ideal weekend getaway.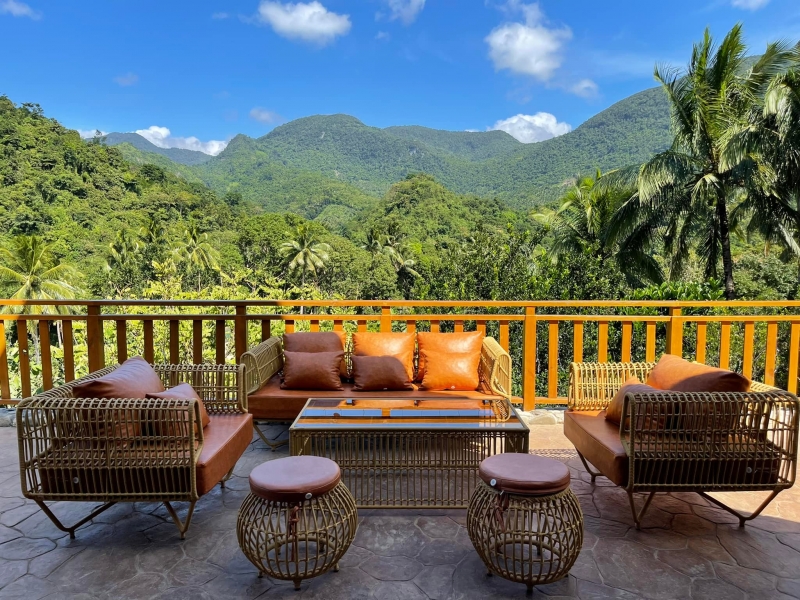 The solar-powered lofted cabin is larger than it looks, with enough space (and bedding) to host 10 to 15 guests. On sunny days, outdoor lovers can indulge in hiking, horseback riding, archery, swimming, fishing, and water tubing. But trust us, if you'd like nothing but to curl up on a comfy seat and read a book, Ellsworth Cabin works just as well. An extension is currently in the works: Petite Cabin. 
Also read: Sea of Clouds in the Philippines: 10 Places With Breathtaking Views
Rains are coming and the temperature is dropping, but don't let the weather put a damper on your plans. The rainy season means staycation season, and luckily, there are plenty of cosy vacation rentals within driving distance from the city. Plan your next weekend getaway and unwind at these spectacular staycations near Manila.
---
This article contains affiliate links. When you book through these links, we may earn a small commission at no additional cost to you. All images courtesy of the respective property listings.