Sure, a relaxing spa day or shopping for new skincare products are tried and tested ways to practice self-care — but that's just one part of a much bigger whole when it comes to wellness. In today's times, more and more people are also embracing the idea of wellness tourism. From idyllic getaways in Tagaytay to the unspoiled island paradises of Palawan, the Philippines has a knack for making rejuvenation and relaxation look easy. Breeze through our list of top wellness resorts in the Philippines and discover what awaits you here!  
Also read: These Airbnbs in the Philippines Will Inspire You to Travel Local
Best wellness resorts in the Philippines
1. Luljetta's Hanging Gardens Spa Place – Antipolo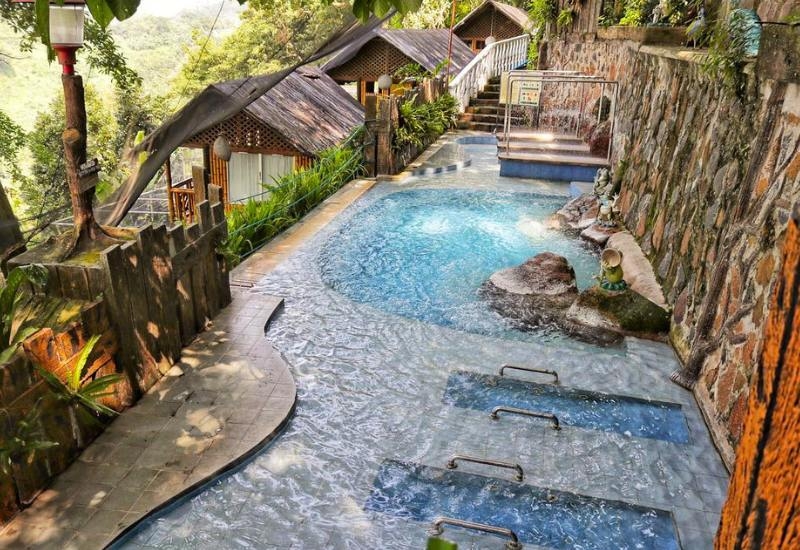 For a taste of Bali in the Philippines, make your way over to Luljetta's Hanging Gardens Spa in Antipolo! Nestled among lush greenery with vistas of Laguna de Bay, it invites you to disconnect and unwind in nature. Here, expect to be pampered from head to toe with its spa treatments that use local herbal oils and traditional hilot techniques. And of course, don't forget to take advantage of the other facilities like its sauna rooms, jacuzzi and hydrotherapy pools, yoga centre, and garden area. 
Address: Barangay, Sitio Loreland Road, Antipolo, 1870 Rizal
Also read: 10 Reasons Why Travelling Is A Form Of Self-Care
2. Nurture Wellness Village – Tagaytay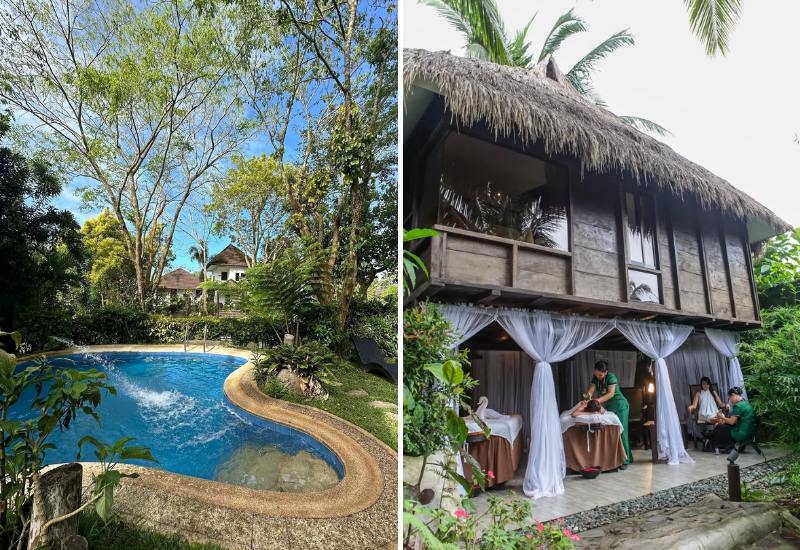 Nestled in the heart of Tagaytay City, Nurture Wellness Village welcomes guests who are yearning for a rejuvenating escape in nature. Lauded as the pioneer wellness spa in the Philippines, it incorporates the concept of ecotherapy (nature therapy) and exemplary Filipino hospitality across its services. Aside from massage treatments, it also offers various holistic health and detox services that will aid in finetuning the body. 
Address: Pulong Sagingan, Barangay Maitim II West Luzon, Tagaytay, 4120 Cavite
Also read: 12 Cosy Airbnbs in Tagaytay for Your Next Out-of-Town Trip
3. Qi Wellness Living – Tagaytay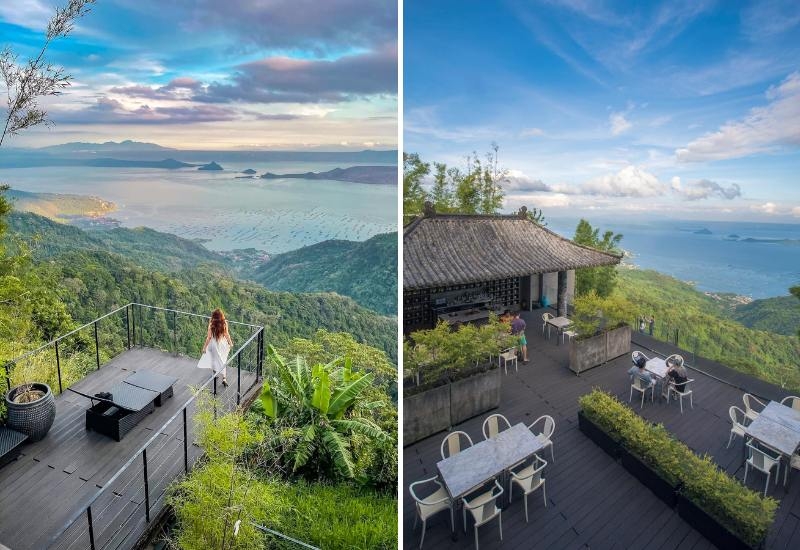 Hoping to get some peace amidst Tagaytay's hubbub? Step into Qi Wellness Living, a secluded gem that offers a one-of-a-kind dining and wellness experience. Perched on the ridge of Tagaytay, it lets you in on mesmerising views of Taal Lake. While it's neither a hotel nor a resort, it houses sleek modern guest homes, bath houses, and a charming teahouse. So, if you have time to spare for a healing day trip on your Tagaytay holiday, this just might be what you're looking for!
Address: 4W2W+CPP, Aguinaldo Highway, Brgy. Maharlika East, Tagaytay City, Cavite
Also read: 10 Breathtaking Tagaytay Hotels That Won't Break the Bank
4. The Farm at San Benito – Batangas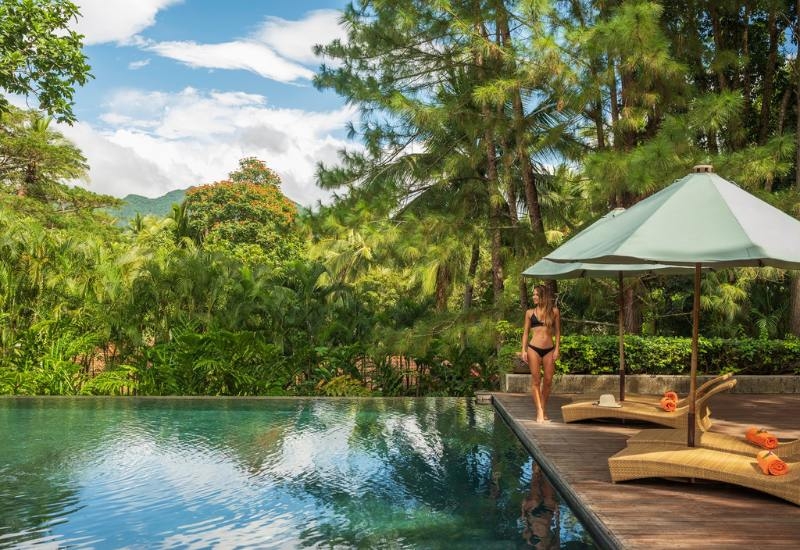 The Farm at San Benito stands as a prime destination for those seeking a holistic wellness experience, just a two-hour drive from Metro Manila. This eco-luxury resort in Batangas is enveloped by 52 hectares of lush greenery backed by the majestic Malarayat Mountain Range.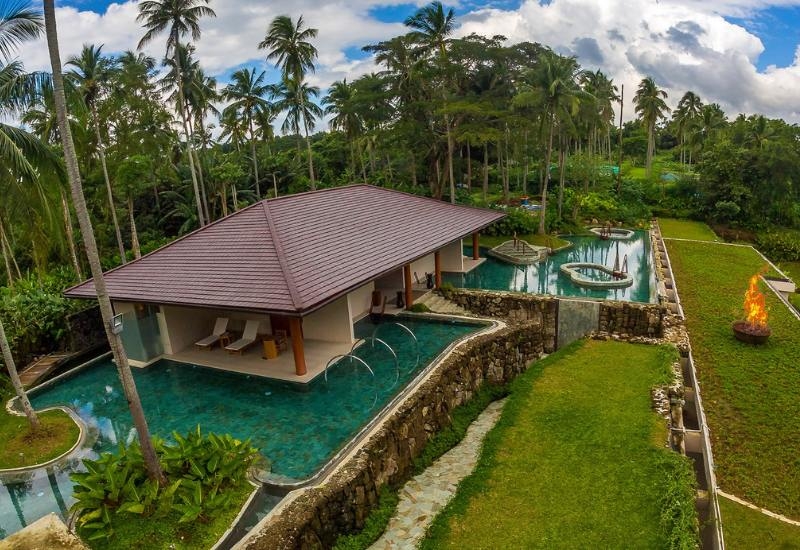 With 60 exclusive stays, plant-based dining spots, and medically supervised health programmes, The Farm is fully equipped with everything you need for the ultimate healing journey. 
Address: 119 Barangay, Lipa, 4217 Batangas
Also read: 10 Pristine Beaches in Batangas for a Relaxing Tropical Break
5. Hiraya Wellness Resort and Ecopark – Pangasinan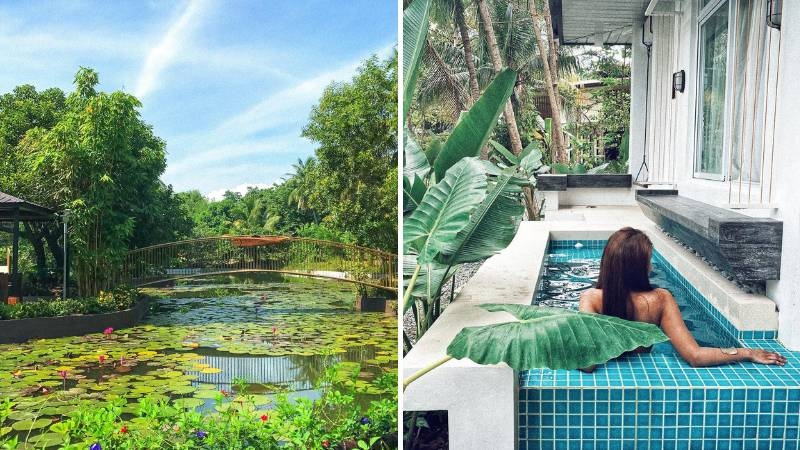 Conveniently situated along a highway in Aguilar, Pangasinan lies Hiraya Wellness Resort and Ecopark — your paradise and safe hideaway in the north. It invites you to "embark on a journey to slow living" and revitalise your mind, body, and soul through nature. Take advantage of its complimentary activities like trekking, biking, yoga, and fitness sessions! After your fill of the great outdoors, retreat to its luxurious yet cosy villas, perfect for couples and families. 
Address: Barangay, Romulo Hwy, Barangay Ninoy, Aguilar, 2415 Pangasinan
6. Badian Island Resort – Cebu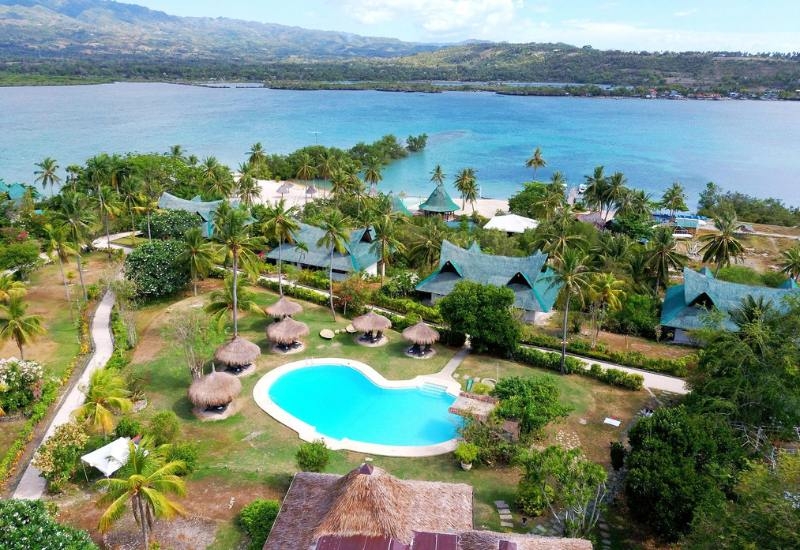 Built over 30 years ago, Badian Island Wellness Resort proudly stands as one of the pioneers of Cebu's tourism and hospitality sector. It is also globally recognised for its "reclusive open-air relaxation" concept, which features cascading saltwater pools and organic gardens. Aside from treating its guests to a breathtaking resort landscape, it also encourages holistic wellness by offering natural spa treatments, yoga sessions, and farm-to-table dining options. 
Fun fact: Badian Island Wellness Resort uses thalasso (ionized seawater) in its dipping pools to help heal and revitalise the body. 
Address: Badian Island Wellness Resort, 6031 Zaragosa Island, Cebu
Also read: Cebu Travel Guide 2023: Best Things to See, Eat, and Do
7. Mithi Resort and Spa – Panglao, Bohol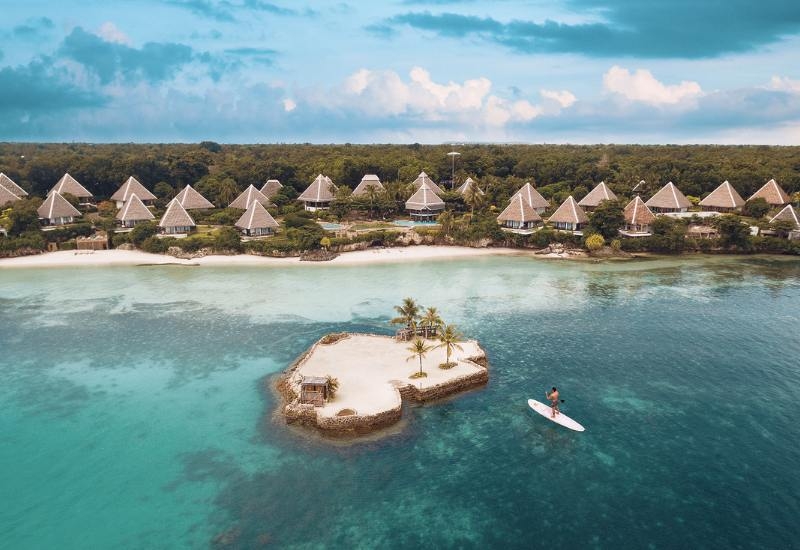 Surrounded by the crystal-clear, turquoise waters of Panglao, Bohol, Mithi Resort and Spa is unmistakably one of the most captivating wellness resorts in the Philippines. It houses a half-kilometre white sand beach, a picturesque islet for private romantic dinners, and a natural underground cave called Cambagat Cave. After getting a taste of its island wonders, retreat to Mithi Spa and let its trained therapists melt your aches and pains away. 
Address: Bingag Dauis, Panglao Island, 6339 Bohol
Also read: 9 Best Introvert-Friendly Places in the Philippines
8. North Zen Villas – Panglao, Bohol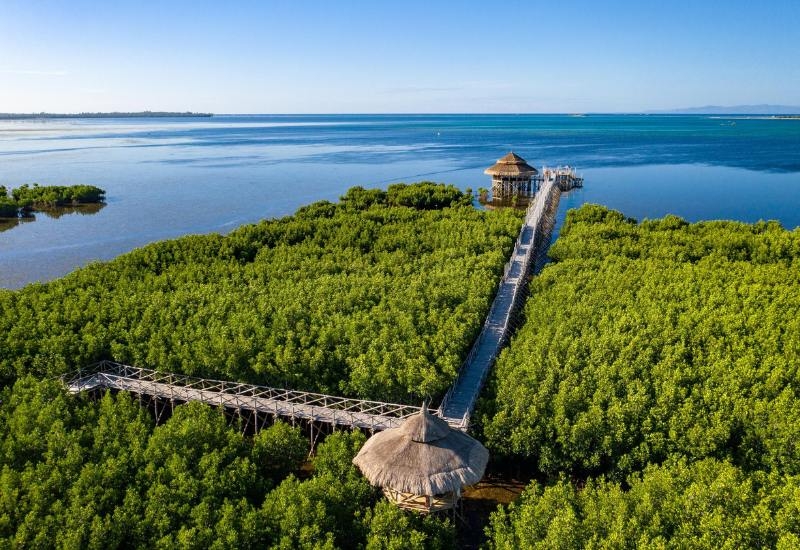 Bohol is a force to be reckoned with among vacationers seeking wellness resorts in the Philippines! Another noteworthy haven located here would be the four-star resort North Zen Villas. Nestled amongst a forest of mangroves and lush gardens, you're sure to soak up the sounds and sights of nature. You can even enjoy scenic strolls along its Bamboo Walk! 
As for its accommodations, North Zen Villas offers 21 rooms and villas. Each stay features contemporary interiors mixed with Filipino tradition and is complete with essential modern amenities like free WiFi and air conditioning. 
Address: Brgy. Doljo Panglao Island, Bohol
Also read: Island Hopping in the Philippines: Top Destinations and Tips for Planning Your Trip
9. DRYFT Camp – El Nido, Palawan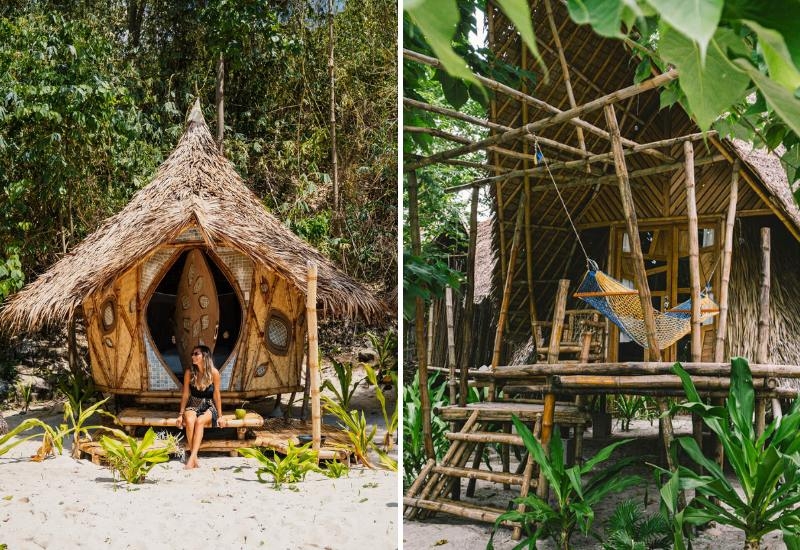 Renowned for its breathtaking natural landscapes that provide ecotherapy, Palawan makes for another top-tier destination for wellness vacations. Don't mind roughing it? Step into DRYFT Camp on Darocotan Island, north of El Nido! At this eco-resort, unique glamping stays and holistic yoga retreats await you.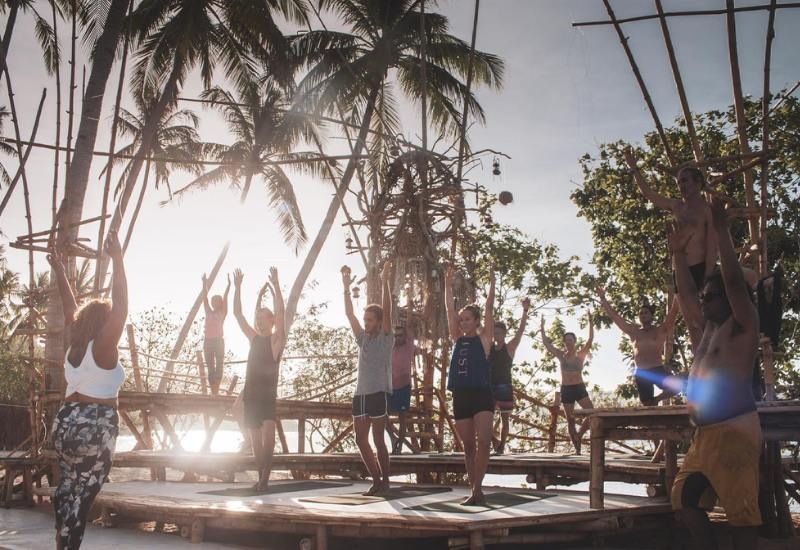 DRYFT Camp also houses its very own restaurant, which serves up local and Southeast Asian-inspired delicacies. Here, all dishes are prepared with the freshest ingredients and produce sourced directly from the island. 
Address: Darocotan Island, El Nido, 5313 Palawan
Also read: 17 Secluded Hotels & Resorts in Palawan That Are Off the Tourist Radar
10. Fight Club  Philippines Fitness Resort – Puerto Princesa, Palawan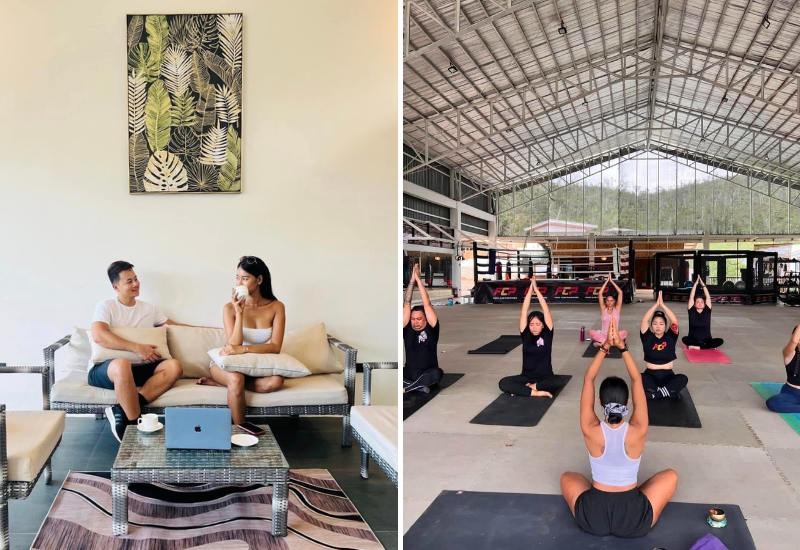 Our physical health is also an important part of wellness. As the first-ever fitness resort in the country, Fight Club Philippines packs a punch (no pun intended) when it comes to transformative wellness experiences! Surrounded by the lush greenery and crystal clear waters of Puerto Princesa, it's designed to empower you on your fitness journey while providing a tranquil respite in nature.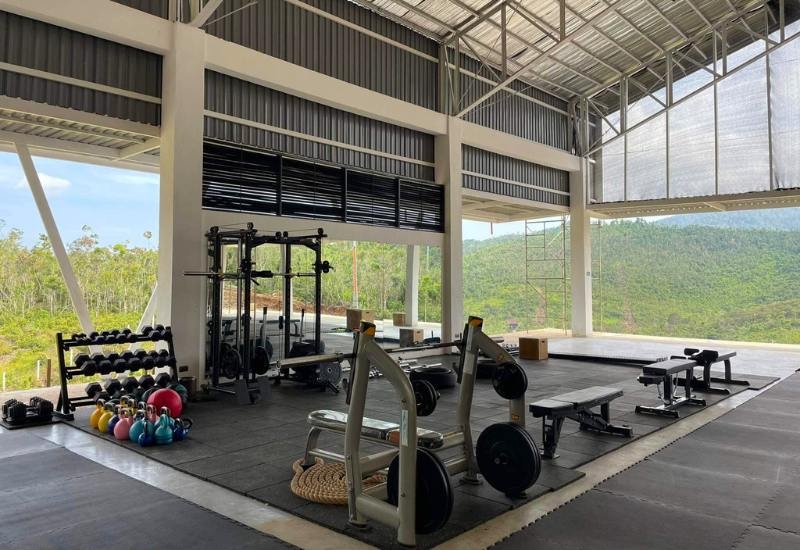 Attain your fitness goals at its 600-square-metre open-air training hall. It's fully equipped with everything you might need for resistance training, cardio, conditioning, and more. After breaking a sweat, kick back and relax at its hotel-style nightly stays. 
Address: Barangay, Sitio Maranat 3, Puerto Princesa, 5300 Palawan
Also read: 10 Health and Wellness TikTok Accounts to Follow on the App
So, are you ready to kickstart your wellness journey through travel? These wellness resorts in the Philippines await you! And, if you've already experienced one yourself, we'd love to hear about your story! Hit us up on our official Facebook page or tag us in your Instagram snapshots @tripzillaph with #TripZillaShare.